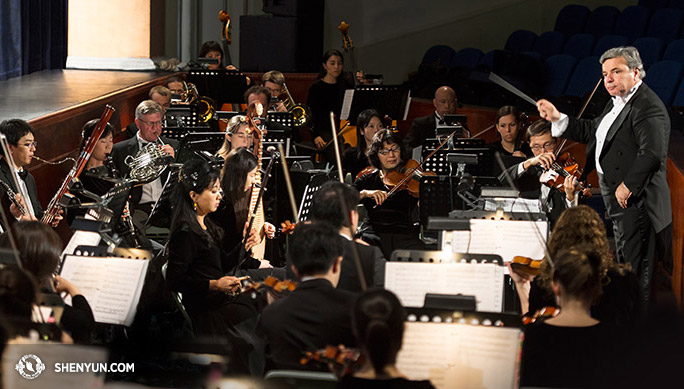 Shen Yun Orchestra Now Hiring: Harp, French Horn, and Other Instruments
Shen Yun Performing Arts, the world's premier classical Chinese dance and music company, is holding auditions for orchestra positions, particularly harp and French horn.
Shen Yun is based in New York State and has just completed its tenth international tour. We have grown from one tour company in 2006 to four equally large groups of some 80 performers each that simultaneously perform around the world. As we continue to grow to meet the demand for more performances, we are looking to hire top-level musicians.
Every year, Shen Yun's orchestras accompany the dance production on a world tour that runs from December to May; it spans over 100 cities across North and South America, Europe, Asia, and Australia. In the fall, the Shen Yun Symphony Orchestra also performs all-original Shen Yun compositions and classical masterpieces at celebrated venues like Carnegie Hall.
Shen Yun's orchestras masterfully blend two of the world's greatest classical music traditions. Ancient Chinese instruments such as the erhu and pipa play alongside a full orchestra of Western strings, percussion, woodwinds, and brass. Shen Yun has succeeded in accomplishing what many have tried to do and failed—harmoniously uniting these two distinct musical traditions, creating a dramatic and refreshing sound.
A Company With a Mission
Shen Yun was established by a group of elite Chinese artists from around the globe. They came together united by a mission—to revive five millennia of traditional Chinese culture and share it with the world. The company does this primarily through classical Chinese dance, ethnic and folk dance, hundreds of handmade costumes, dynamic digital projection, vocal soloists, and music that combines the best of East and West.
Our artists draw inspiration from the ancient practice of Falun Dafa, cultivating Zhen (Truthfulness), Shan (Compassion), Ren (Forbearance) in our daily lives. Through the guidance of these principles, our members are able to attain a state of tranquility and insight that enables them to restore this divinely inspired culture.
Openings
Openings are available for harp and French horn, as well many other instruments.
There is also an opening for a violin teacher for faculty at our affiliated academic arts institution.
How to Apply
Interested musicians are encouraged to visit our website to learn more about the company, and then visit our auditions page and fill out an application form.
Go to employment opportunities page