Day #15: The Lantern Festival
Another Chinese New Year is upon us, and despite how many new years have come and gone, it's still an exciting time for us Chinese. Not only is it the beginning of the new lunar year, but also it's a series of 15 days of festivities!
Every day has its significance and traditions. The first opportunity to see a full moon is on the 15th night, and it's called the Lantern Festival. As you may know, lanterns make a special appearance on stage with us this year, so I've been reflecting on the lantern a lot lately.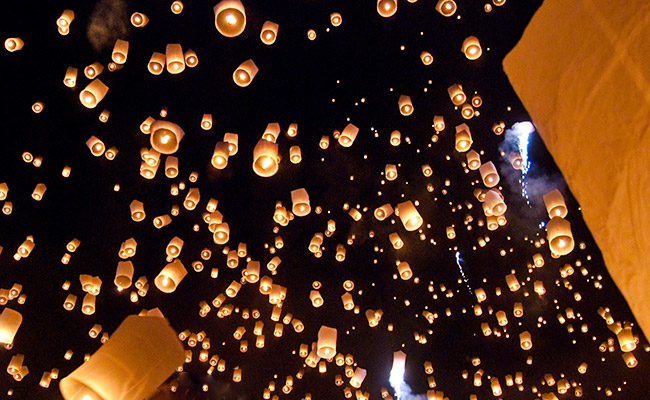 Today, lanterns are purely used for decoration. And over the years, Chinese families have used lanterns to bring out the spirit of the Lunar New Year, along with adorning the home with beautiful intricate paper cutouts on windows and doors. But do you know about the earliest recorded use of paper lanterns?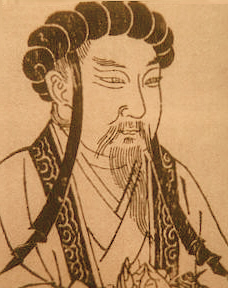 It is said that almost 2,000 years ago, the great strategist Zhuge Liang needed a way to communicate in the dark. How did he do it? Thanks to ancient China's advanced paper-making technology, he took a sheet of oiled rice paper, fitted it with a bamboo frame in the shape of his signature hat, lit a candle to illuminate and produce hot air, and… voila! The first lantern was born, floating into the night sky. Zhuge Liang's courtesy name was "Kong Ming" (孔明), so today the floating lantern is still known as "Kongming Deng" (孔明灯).
In ancient China, it was customary for families to hang lanterns at gates. For the Lantern Festival, intriguing riddles were written on strips of paper and attached to the bottom of a lantern. Everyone would join in guessing these thought-provoking riddles, making the celebration interactive and lively—and one that remains an important and popular activity today.
Another common tradition is…lantern watching! Sound dull? Well, just imagine…a full, moonlit night, surrounded by family members, neighbors, and friends, with countless lanterns in all sorts of festive colors lit up along the streets. For Chinese families, it's actually a stunning sight not to be missed.
Speaking of lantern watching, it is said that during the reign of Emperor Tang Xuanzong of the Tang Dynasty (618-907 A.D.), there were fifty thousand different kinds of lanterns lit in the capital city of Chang'an. With the lanterns' patterns and embellishments exemplifying the grandeur of the prosperous Tang, it doesn't get any more lavish than that!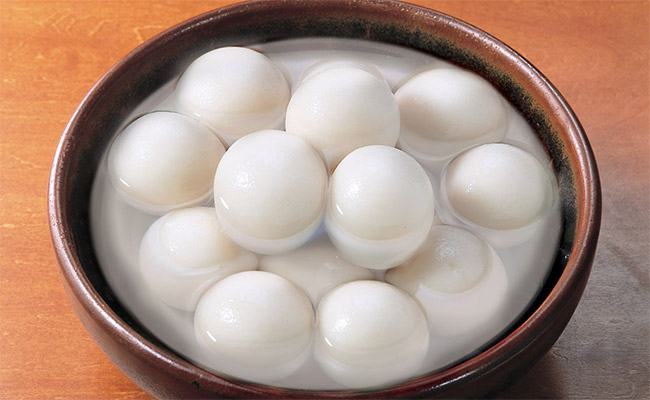 Last but not least, what's a festival without good food? The most customary thing to eat during the Lantern Festival is Tang Yuan (汤圆) or Yuan Xiao (元宵). Thought to have originated in the Song Dynasty, these delicacies are little round dumplings made of glutinous rice flour. In Chinese, Tang Yuan is pronounced similarly to "Tuan Yuan", which in Chinese means "reunion of family members." These round dumplings symbolize staying together, because the concepts of roundness and togetherness are closely linked in Chinese thought. A seemingly simple dumpling is actually how families and relatives express their best wish for their loved ones.
Tang Yuan are often stuffed with different fillings (sweet or salty), and served in soup. Fillings can include white sugar, brown sugar, sesame, walnuts, dried osmanthus flowers, rose petals, sweetened tangerine peel, bean paste, jujube paste…or any combination of two or three ingredients. (Bonus: Five Brownie (er… Tang Yuan) points if you can calculate how many variations of fillings for which that allows!)
Happy Chinese Year of the Horse!

February 10, 2014